Government in Ancient Egypt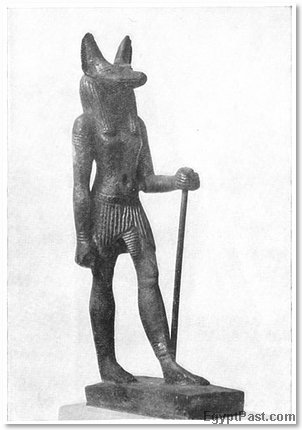 Egyptian Ritual Statue
Government. When the king was simply the first among equals, Upper Egypt was divided into thirty administrative departments of different grades, each having its nomarch or governor who stood as the leader in everything — chief judge, district chief, military commander, tax collector, architect, treasurer, etc.
As judge he was also the priest of MAT (q. v.), the goddess of truth. So long as the king retained supreme power this arrangement continued, but upon the decay of royal prestige each district chief aspired to leadership. This probably explains the periods of confusion in the history indicated by the blanks between the seventh to eleventh and thirteenth to seventeenth dynasties.
A new order came in during the period of the New Kingdom. The nomarch surrendered all his functions to the military official appointed by the king to look after his interests and to gather the taxes in kind, peaceably or forcibly as the case might be. Royal stewards and messengers, the "mouths" or "speakers" of the king appear as intermediaries.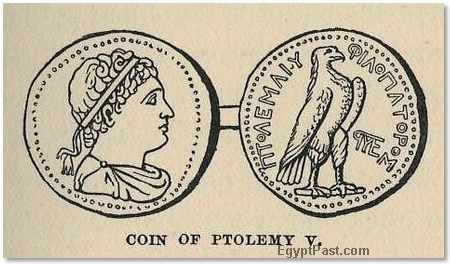 A Coin of Ptolemy V
Some of the more important additional offices were those of chief judge, governor, building-master, treasurer, overseer of granaries, etc. (see above: Classes of Society). The chief judge was a man of high standing, a prince or noble, or perhaps a priest. Beneath him were several grades in the office. Several sat as a court, and before them complaint was made, prosecution and defense heard, and judgment pronounced or referred to the king, according to the gravity of the complaint. The prosecutor might be a private person or a public official with whom the complaint was lodged. Confessions were forced with the bastinado. The severest punishments were the loss of ears and nose, or death by impaling, compulsory suicide, or poisoning. Accounts of trials are frequent, but no legal code has survived.
pyramids
Egypt
Mummies
Search Engines
Link Report